Rotary cutter(grass cutter/tree trimmer) MGR-01

Easy grass cutting and tree trimming by using power shovel
The cutter installed on a power shovel ensures very easy and quick grass cutting and tree trimming on formation level, road shoulders and slopes.
The special cutting teeth are used to cut weeds (lawn) and bushes (max. trunk diameter: approx. 150 mm).
A power shovel can be used for various purposes, thereby reducing the operating time.
Rotary cutter(grass cutter/tree trimmer)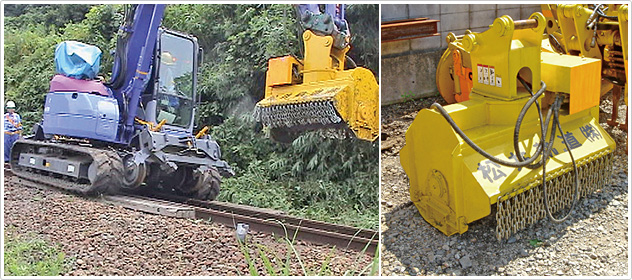 Moving image
Examples of work
Major dimensions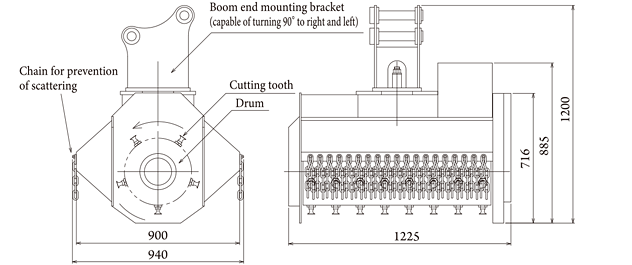 Principal specifications
Item
MGR-01
Specifications
Overall length × width × height (mm)
940×1,225×1,200
Cutting height (mm)
50
Cutting width (mm)
1,000
Total weight of body (kg)
600
Number of rotations of drum (rpm)
2,000
Rotation direction of drum
Direction can be switched between forward and reverse.
Drum rotating method
Hydraulic motor (V-belt)
Required amount of oil for hydraulic motor (ℓ/min)
60
Max. working hydraulic force of hydraulic motor (kgf/cm2)
210
Applicable heavy equipment
Road-rail power shovel/crane (applicable class: 0.25~0.45m3)