Road-rail 16 tool tie tamper MTT1600H

Maintenance of large-scale track with road-rail vehicle
Road-rail vehicle dedicated to tamping provided with 16 tool tie tamper unit.
The uniquely developed tie tamper unit ensures working efficiency and effectiveness equivalent to those of tamping machines.
It can be mounted on a track by using a crossing, and, therefore, time and labor for forwarding can be saved.
16 Tool Tie Tampers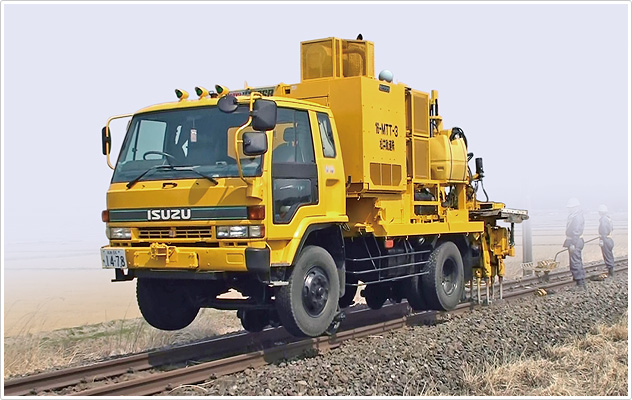 Moving image
Examples of work
Major dimensions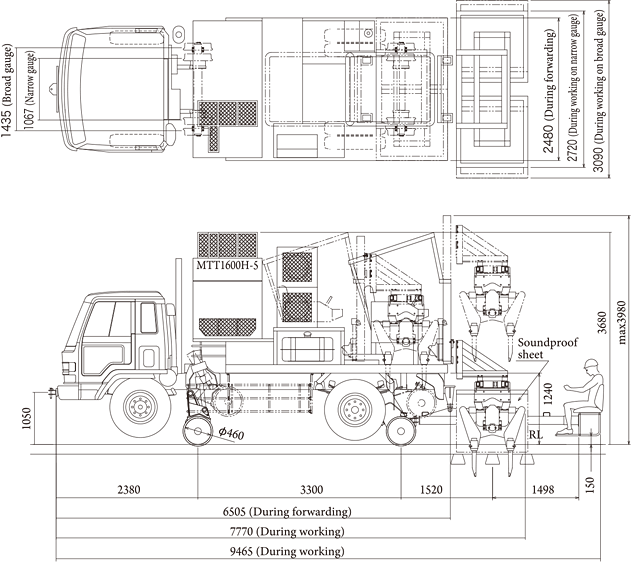 Principal specifications
| Item | MTT1600H |
| --- | --- |
| Base vehicle | ISUZU U-FTR32FB |
| Total weight of vehicle (kg) | 13,000 |
| Source for track running and working | Vehicle engine side: Triple gear pump/Working engine side: Quadruple gear pump |
| Rated hydraulic pressure (kgf/cm2) | 210 |
| Max. discharge (ℓ/min) | Vehicle engine side:125 / Working engine side:280 |
| Max. track running speed (km/h) | Forwarding: 15 (1st gear) 30 (2nd gear) 40 (3rd gear)/Working: 10 |
| Max. gradient of track | 30 / 1,000 |
| Construction method | Tamping of sleepers one by one under both rails |
| Max. tamping depth (mm) | Approx. 250 deep from underside of sleeper |
| Tie tamper vibration frequency (Hz) | 30 |
| Tie tamper amplitude (mm) | 4.0 |
| Tie tamper squeezing power (kgf) | 4,000 (per tooth) |
| Tamping efficiency (m/h) | 250 (single tamping)/150 (double tamping) |